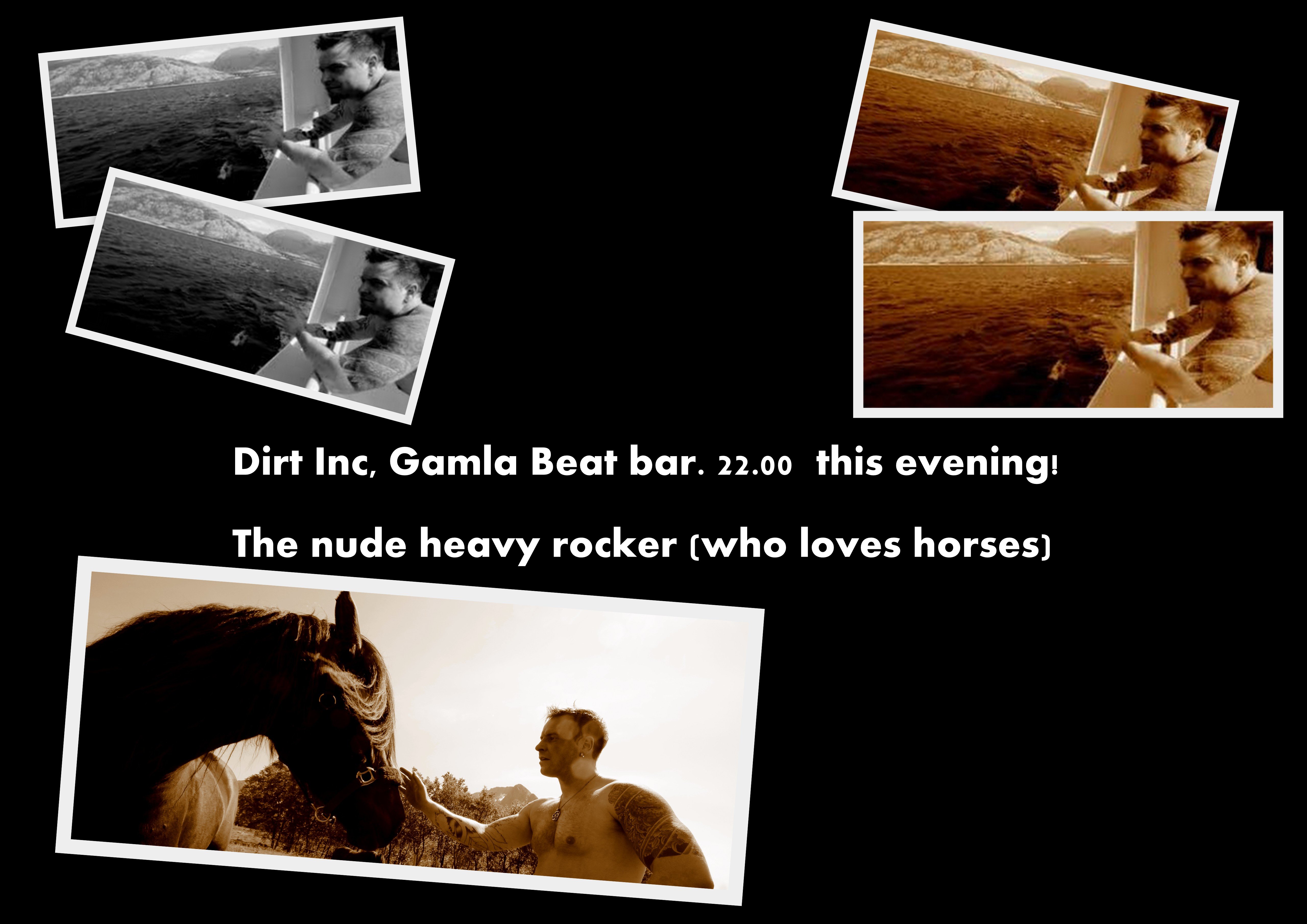 – to some English mates!
1. Go Facebook: "Dirt Inc" for information 2. Go Bohemen pub for the first pints 3. Go Gamla Beat bar, Grensen 1, Inng. Møllergata. Aprox 21.30.
Can not guarantee any horses, but the next big band that "shook you all night long"
Photos: – took them of Lars Eriko (vocal, Dirt Inc) when he cycled Norway in a boxer shorts in 2011.
More info (in Norwegian)
Dirt Inc ble dannet i 2008 og har siden den gang jobbet med debutskiva som etter planen skal slippes høsten 2013. Første smakebit fra albumet er "Jenna Jameson", en rock n roll låt med et groove ala Guns N Roses "Mr.Brownstone" og Aerosmiths "Walk This Way", tilsmykket med en snerrende Beastie Boys Vs. Pantera aktig battlerap . Låten ble spilt inn i Svenska Grammofonstudion Gøteborg sammen med produsent John Agnello (Turboneger, Madrugada), men vokalen omskrevet og re-innspilt i Oslo desember 2012. TA ME…D CASH: Det blir salg av splitter nye Dirt Inc. T-shirts!!
Med seg har de sleazerock debutantene Nasty Reputation fra Trondheim som slipper sin første singel "Wild at heart", en kompromissløs rockelåt med et rett i trynet refreng og en høytflyvende gitarsolo som lar minnet gli tilbake til det glamorøse 80-tallet. Nasty Reputation består foruten frontmann Nasty Anderson bl.a. verdensvante røvere som Billy McBarbie (Slömber/Sugar Louise) og Baard Bye fra Los Angeles-bandet Tattooed Millionaires CC: 100,-
Har du vært å sett de flinke kara i The Good, The Bad and The Zugly så vis stempel/billett i døra så kommer dere inn for 50 kroner!
Bjorn @heidenstrom on twitter / instagram – a Dirt Inc fan