The question have arrived: "do you have a better map?"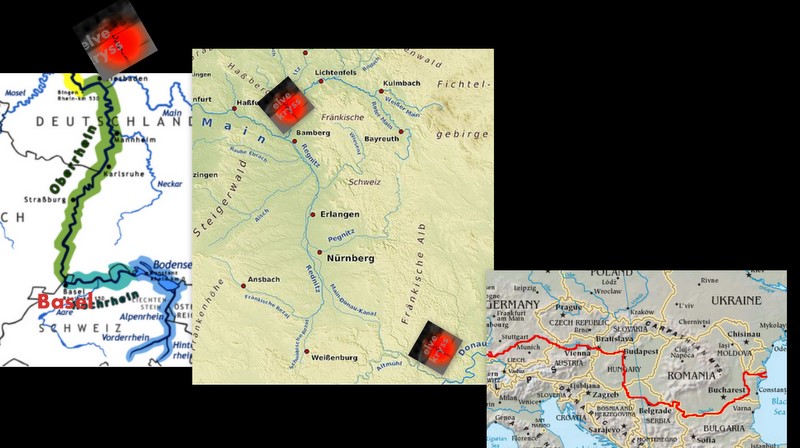 The answer on my new super best home made map is; I'll start in Basel (down left) and turns to new river / channel where you can see a red square and ends in the Black sea (down right)
The answer in headlines is;
The start is with a Swizz chocolate in the river city Basel (on the Rhine). Then to Mainz (Germany )- to Bamberg (G) and from there paddling south to the start of Danube –  and then waving my arms for ca 3000 km on the Danube river to the Black Sea.
I'll do 3 things:
I'll ask for attention and money to find missing children in a Red Cross project. (tell how you in 5 days)
I'll ask for signed old football shirts, so our 20 x 15 meter humanitarian football symbol can get bigger and the attention stays high.
I'll go for a world record in Stand up paddling to trick media to my paddling board and and missing children.
The end:
I'll stop when my arms falls of my body or when I grab the world record ( ca 4100 KM)  My guess; – it will take 100 days.
 Details:
 I'll start on the Rhine in Basel (Swiss) and go north and will pass larger cities like Strasbourg (F), Karlsruhe (D), Mannheim (D), Ludwigshafen (D), Wiesbaden (D), and close to Mainz where I'll turn East and upp the connecting river Main. The Main is navigable for shipping from its mouth at the Rhine for 396 km to Bamberg. From Bamberg there is a waterway (Since 1992). That is the Rhine-Main-Danube Canal (thank you for making that one…)
So I'll paddle south from Bamberg on what many calls the Rhine-Main-Danube Canal to Furt and the channel floats in to the Danube.
On the Danube I'll float pass:
Cities
Germany:
Sigmaringen in Baden-Württemberg
Riedlingen in Baden-Württemberg
Munderkingen in Baden-Württemberg
Ehingen in Baden-Württemberg
Ulm in Baden-Württemberg
Neu-Ulm in Bavaria
Günzburg in Bavaria
Donauwörth in Bavaria
Neuburg an der Donau in Bavaria
Ingolstadt in Bavaria
Kelheim in Bavaria
Regensburg in Bavaria
Straubing in Bavaria
Deggendorf in Bavaria
Passau in Bavaria
Austria
Krems in Lower Austria
Vienna
Slovakia
Bratislava – capital of Slovakia
Komárno
Štúrovo
Hungary
Visegrád
Vác
Szentendre
Budapest – capital of Hungary
Százhalombatta
Ráckeve
Dunaújváros
Paks
Kalocsa
Baja
Mohács
Croatia
Vukovar
Ilok
Serbia
Apatin
Bačka Palanka
Futog
Veternik
Novi Sad
Sremski Karlovci
Zemun
Belgrade – capital of Serbia
Pančevo
Smederevo
Veliko Gradište
Golubac
Donji Milanovac
Kladovo
Bulgaria
Lom
Kozloduy
Oryahovo
Nikopol
Belene
Svishtov
Ruse
Tutrakan
Silistra
Moldova
Giurgiuleşti
Ukraine
Reni
Izmail
Kiliya
Vylkove
Romania
Orşova
Drobeta-Turnu Severin
Calafat
Bechet
Dăbuleni
Corabia
Turnu Măgurele
Zimnicea
Giurgiu
Olteniţa
Călăraşi
Feteşti
Cernavodă
Hârşova
Brăila
Galaţi – largest port on Danube
Isaccea
Tulcea
Sulina – last city through which it flows
Then I'm on the Black Sea and will count kilometers, and turn left…. 😉
Bjorn @Heidenstrom on Twitter and packing my bags and board.