The Shirt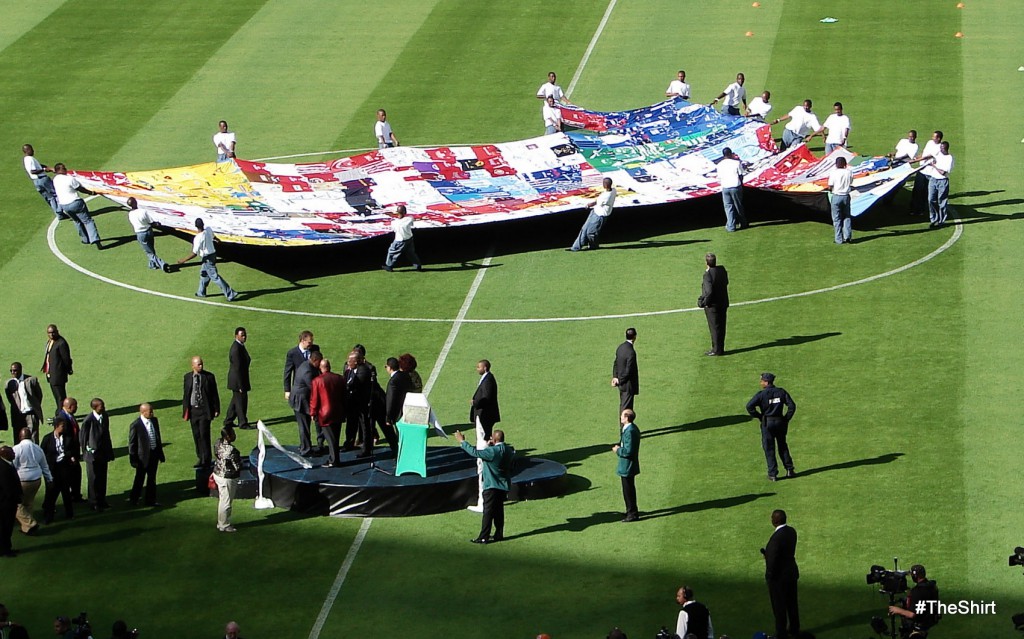 The Shirt – is the football grassroots project that has been a) crazy expeditions to b) make a uniting symbol of the football family – and that has so far made c)  PR and media for charities in 85 countries
The start: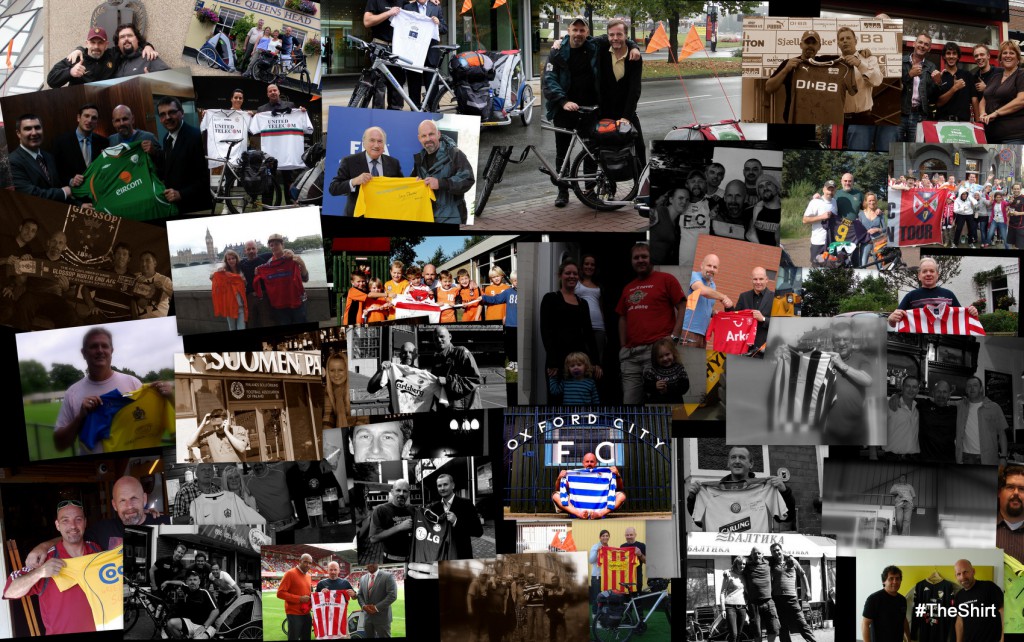 It started with a man (Bjorn) who had an grass root idea and got help from fans and clubs – and then UEFA and FIFA. The idea was that the football community could help people in need – and their organizations with attention. Attention that creates involvement. Involvement that creates understanding and undestanding and awareness that sometimes make money for the charity. ( PS! The Shirt and Bjorn does never touch money / collections )
The history so far:
It started with a lonely cycle ride. Just Bjorn alone  from Norway and that was 23.000 Km to the World cup in South Africa . 333 swetty days to collect signed football shirts and make the uniting symbol.
Then there was new 3300 cycled kilometers in 2011
Then there was a stand up paddling trip from Switzerland to the black sea.
The receiving charities has been: UN/UNHCR, The Red Cross, and Folkehjelpen.
All this crazy activity has created a symbol (The Shirt). It is a symbol that is growing every week and now there are 750 proud and signed football shirts and thousands who wants to join.
The project creates PR and media attention every week when we are working on the project. So far; from exclusive news reports from; CNN, BBC, and FIFA TV, right down to the local stations from Russia and China to Norway and Wales.
The family/The Symbol:
Involved and signed to date are among others; UEFA v / Platini, FIFA v / Blatter, all players in Barcelona, Valencia, Manchester United, soccer fan Sir Elton John, football fans in the band Iron Maiden,  The Nobel Peace Institute, . … and about 7,000 other members of the football family.
Goal and methods: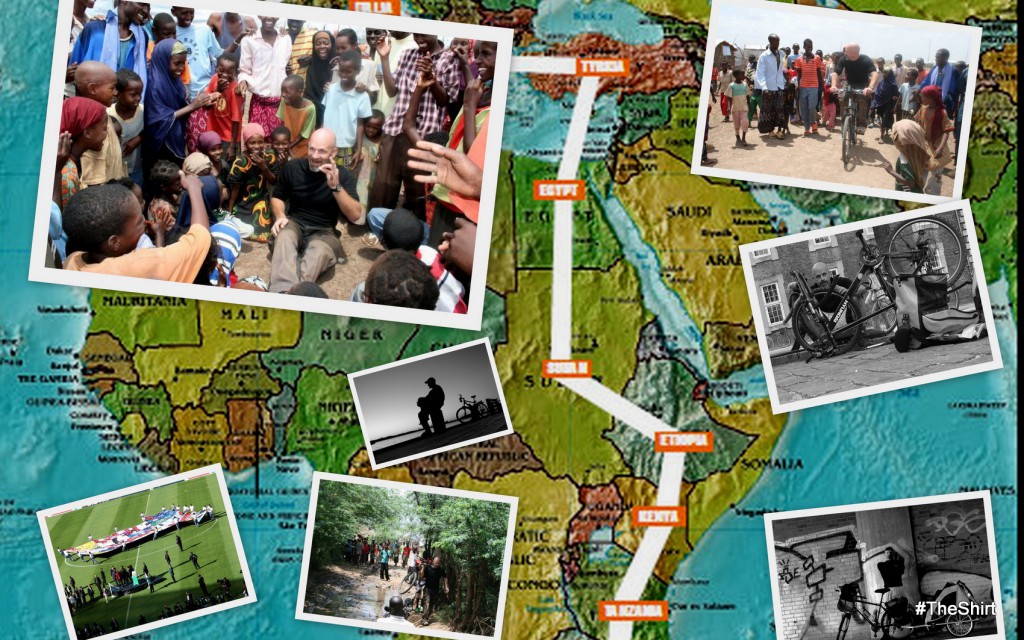 The project's goal is, attention and involvement for charities.
The methods are: "Drama" (#crazy), Symbolism (#footballjerseys), and the "Uniting" (#famuly) (to be stitched together into one large symbol)
The project has so fa created public relations and media in 85 countries and our analysts believe that 2 billion so far have heard and seen the project and then information for organizations that the project helps. (Source:  FIFA TV and UN)
Who:
Bjorn is an ex national team player who has worked 8 years in the football industry as a marketing manager and media manager for top clubs. The Shirt project has been paid with his own money.
Who next: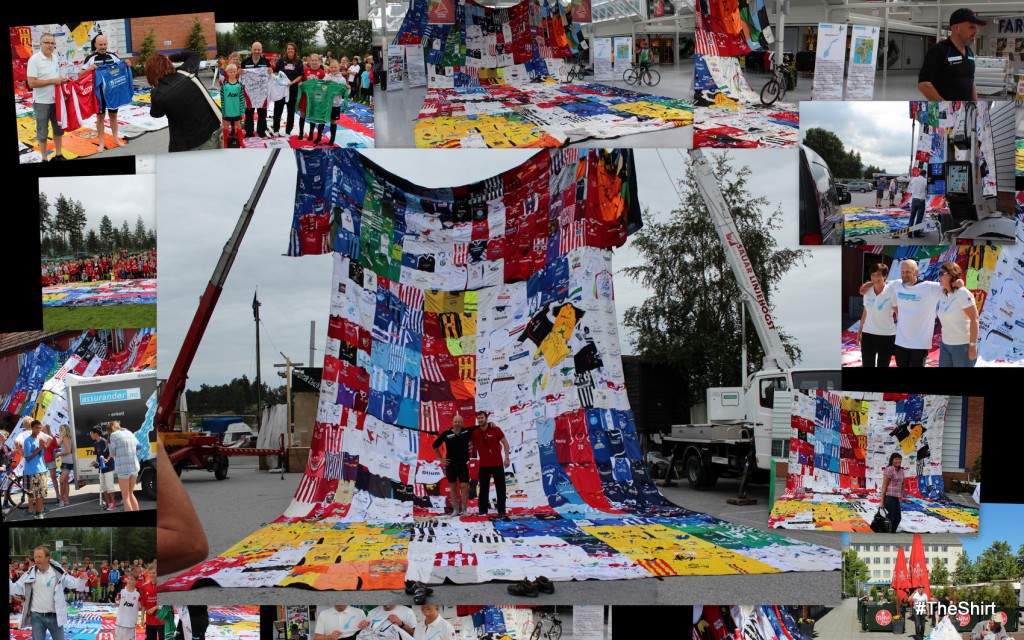 We want to talk with companies and organizations who are young in mind and see the power of the concept. The Shirt was the most taken "selfie" in 2010 ( World Cup Johannesburg ) and that was before the word selfie was made…
France is ready for more selfies, more support, and more power.
Contact us if you are a fan of #crazy #uniting #football and #helping:
[contact-form]