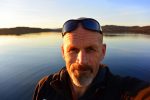 Hi!
I am Bjørn and there are very few visitors on my page….., – so I use my website  to save and logg my personal photos, notes, and articles ….. ( It´s a kind of a diary/digital store….) 
– it would of course be superbest if you find something of interest here – and you will be my hero for this and the next month if you leave a signal (and proof) that it was human being in my digital kingdom…. 🙂
Im @heidenstrom on Instagram and Twitter.
Im outdoors.